Meet Afeez Agoro The Tallest Man in Nigeria: His Age, Height and other information about Him
Afeez Agoro is a Nigerian guy who stands at roughly 7 feet 4 inches tall and is unofficially considered as the country's tallest person. Agoro, a true giant, instantly turns heads and attracts attention whenever he walks into a room. In fact, most people don't even come close to matching his shoulders when they stand near him. If you think you're tall, one look at Afeez Agoro will convince you otherwise.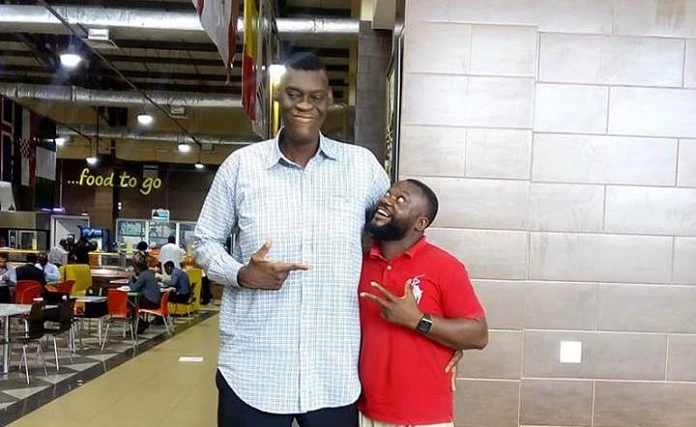 Afeez Agoro, dubbed "Mr. Tallest" by his followers, shot to prominence when his amazing height was uncovered, and he has since used his celebrity to pursue a career in the entertainment sector. He is now an actor and a reality TV personality.
Profile Summary Of Afeez Agoro Oladimeji
Full name: Afeez Agoro Oladimeji
Date of Birth: 13th December 1975
Age: 45 Years Old
Place of Birth: Yaba, Lagos State, Nigeria
Ethnicity: Yoruba
Nationality: Nigerian
Marital Status: Single
Education: the University of Lagos and Lagos State Polytechnic
Known for: Being the tallest man in Nigeria
Height: 7 feet 4.58 inches
Afeez Agoro Was Born In Lagos
The tall man was born in Sabo Yaba, a community in Yaba, a Lagos State suburb on the Mainland. Agoro, who was born on December 13th, 1975, is currently 45 years old. He weighed 8 pounds at birth, which was average for a baby, and was just like any other regular newborn infant. His growth surge didn't start until much later. Afeez and his family moved to Akoka Yaba, another Yaba suburb, when he was about seven years old, despite the fact that he was born in Sabo Yaba. He was born and raised in Akoka Yaba, where he also received his education.
Afeez Agoro was not his parents' only kid; he had siblings with whom he shared his childhood. In actuality, the tall man was born as the last child of his mother, who was his late father's second wife. He may or may not have step-siblings from his father's other wife.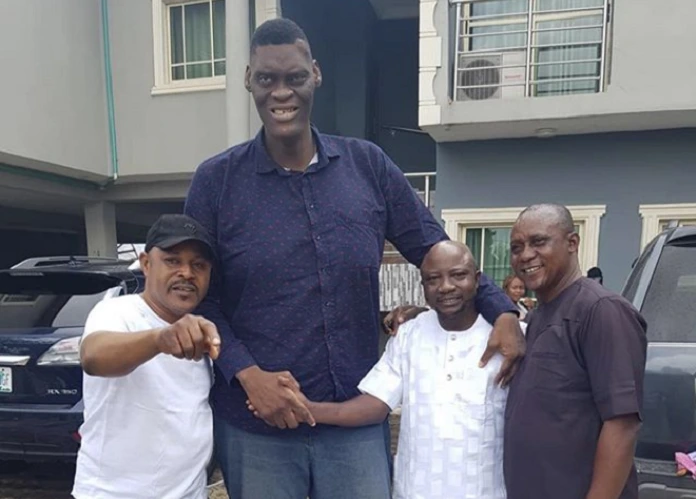 Afeez Agoro poses with some fans
His Growth Spurt Began At Age 19
As previously stated, Afeez Agoro was a normal child when he was born, and nothing indicated that he would grow into a giant. In fact, during his pre-teen and early teenage years, he was not even among the tallest children. In a 2019 interview with The Nation Newspaper, Agoro revealed that he was not the tallest boy in his secondary school. He was just a regular youngster with a regular height.
However, after completing secondary school and reaching the age of 19, he began to become ill. Everyone was perplexed by the illness, which caused him to grow taller. During that time, he became ill several times and continued to grow in height rapidly. He was soon taller than everyone in his neighborhood due to his rapid development. People who knew him were taken aback, especially those who hadn't seen him in a long time before his illness. Some of his secondary school classmates who hadn't seen him in years after graduation were taken aback when they finally saw him after his growth spurt, he told The Nation.
When Agoro's growth spurt began, along with his strange illness, his father was concerned for his son's safety because the situation was unusual. As a result, he took the boy to various hospitals, but physicians said they couldn't see anything wrong with him. Afeez, on the other hand, continued to grow taller, which concerned his parents. All medical attempts to curb his unusual growth failed, and he became the tallest person his friends, family, and neighbors had ever seen. He is currently 7 feet 4 inches tall, making him the unofficial title holder of Nigeria's tallest man.
His Father Built A House To Accommodate His Height
Afeez Agoro and his father had a good relationship, until he died in 2005. The older Agoro, on the other hand, built a house that could accommodate his son, despite his unique height, before he died. Afeez remarked that his father's decision to build the house to accommodate his height helped him a lot throughout the years.
Afeez Agoro's mother chose to pursue medical reasons for his extraordinary height and condition after his father died. She took him to the Lagos State University Teaching Hospital for a medical examination. There was nothing to be seen. Years later, when Afeez visited the United States, he discovered what was wrong with him. According to him, after the physicians checked him and the findings came back, it was discovered that he had been diagnosed with acromegaly. Acromegaly, often known as gigantism, is a disorder that causes people to grow abnormally.
Doctors gave Afeez Agoro a medicine that could help him stop any future growth, according to Afeez Agoro. However, it was ineffective.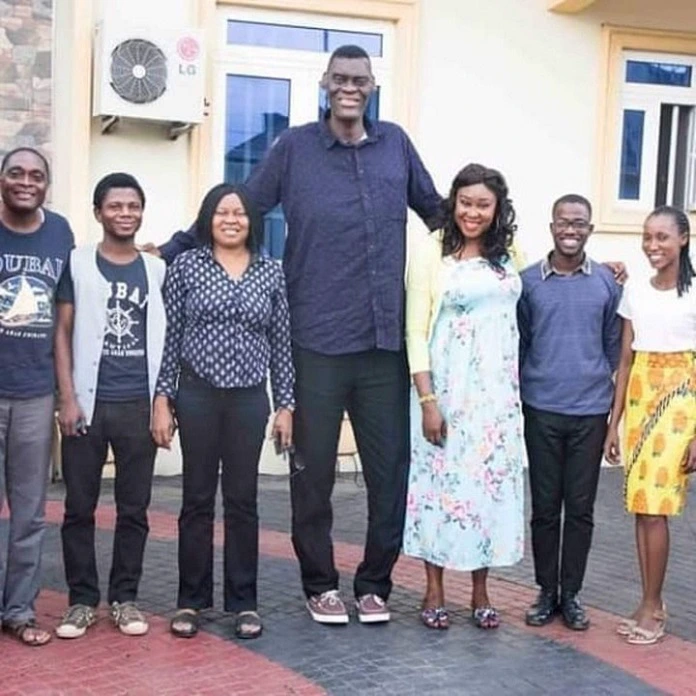 Afeez Agoro with some more fans
How Afeez Agoro Became Known As Nigeria's Tallest Man
Afeez Agoro was well-known in his Akoka Yaba community due to his unusual height, but he was unknown in the rest of Nigeria until his images were posted on the internet in 2016. The photographs, which showed how unbelievably tall he was and how easily he overshadowed everyone he encountered, went viral online, piqueing people's interest in learning more about who he was and where he came from.
Soon after, the man piqued the curiosity of the media, and he began to be booked for interviews. He was already being referred to as "Nigeria's tallest man" at this point. Many newspapers have interviewed him, including The PUNCH, The Nation, and others. He has also made appearances on television shows. Afeez soon began meeting celebrities, who published his photos on their social media profiles after each photo shoot with him. He earned the unofficial title of "tallest man in Nigeria" as his celebrity grew. This was due to the fact that no one in Nigeria has ever been seen standing taller than Afeez Agoro. For the time being, he is Nigeria's number one when it comes to height measurement.
Afeez Agoro Has Faced Some Challenges Because Of His Height
Afeez Agoro's height has given him some issues and inconveniences, as one could assume. Among the issues that Nigeria's tallest man had to deal with were:
Job Problems
Because of his height, Afeez Agoro had major career challenges and found it difficult to get work. Afeez went on to serve in the National Youth Service Corps (NYSC) program in Bayelsa after graduating. The tall man returned to Lagos after completing his NYSC duty to look for work. He was upset, though, because he was constantly rejected by a number of employers. Many of these employers, he assumed, turned him down because of the long-term inconvenient his height may cause. They might have been terrified by his stature as well.
After a while, he was fortunate enough to get a two-year contract position with the Lagos State government. The money he earned from this contract enabled him to start his own modest firm.
Transportation Problems
Afeez Agoro has transportation issues as well. This is understandable given his absurdly tall stature, which prevents him from fitting into any vehicle. Agoro claimed during his interview with The Nation that he used to have a jeep that he used to get around in. He brought the car to a panel-beater to help adjust the seat before he could use it, as predicted. This modification made driving the car easier for the Nigerian colossus.
However, after a period of time, the customized car broke down permanently, forcing him to rely on motorcycles to go small distances in the Akoka area. He also claims to have taken Uber taxis multiple times when he had to travel long distances. He'd have to make a lot of adjustments in the cars he gets into at such times to fit his seizure. When he takes a cab, he claims that the front passenger seat must be shifted all the way to the back in order for him to fit into the vehicle. He further claims that the transportation charges imposed on these children are draining his finances.
Because he can't fit inside commercial buses, Agoro says he rarely utilizes public transportation. Buses used for commercial purposes frequently have a large number of passengers. This makes it nearly hard for him to board any because his frame will disrupt other passengers' seating arrangements.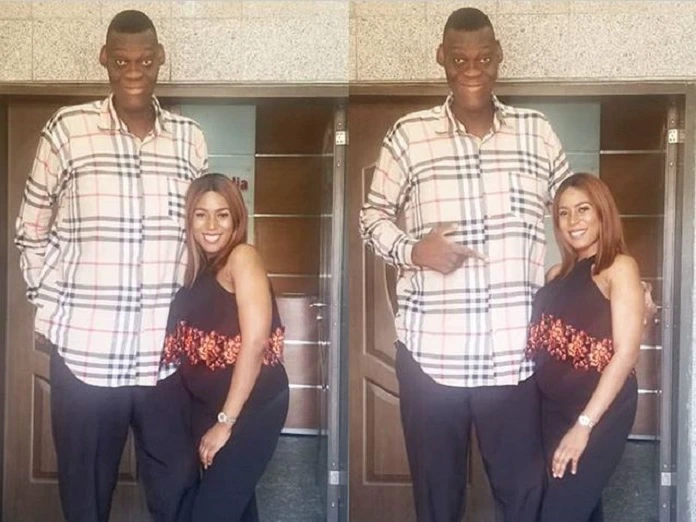 Afeez Agoro poses with popular blogger, Linda Ikeji
Health Problems
Because to his remarkable growth spurt, Afeez Agoro has also encountered major health issues. The tall man has struggled with the side symptoms of gigantism, such as joint problems and rheumatism. His massive size and weight put a lot of strain on his legs, therefore he works out frequently. He usually gets up early in the morning to do leg exercises and other exercises.
In the United States, the Nigerian colossus had to undergo heart surgery. This is because one of the surgeries that most people with abnormal growth will have to have is heart repair.
Problems With Clothes and Shoe Sizes
Afeez Agoro has issues with clothing and shoe sizes as well. This is due to his inability to locate a size that fits him. Agoro, despite his enormous stature, wears a shoe size 53. Of course, this shoe size isn't widely available. This implies he'll have to keep searching for his size for a long time. He frequently has to hire shoemakers to manufacture his own shoes. His shoes are usually imported from the United States once he sends his requirements.
In addition, Afeez Agoro's clothing size is unavailable on Nigerian markets. His frame is far too large to fit into any boutique. To get the appropriate size of his garments, he must first purchase them in the market and then take them to his own tailor, who will stitch them to meet his measurements. On addition, due to his enormous stature, he is unable to sleep in ordinary mattresses. He is currently sleeping in a 4 by 8 bed.
Problems Finding Love
Afeez Agoro, too, struggled to find someone to love him. For many ladies, his height was far too intimidating. Agoro said in an interview with The Nation that for a long time, females avoided him because of his height. Because of the large height disparity, the few women who were able to converse to him eventually fled. They were simply unable to cope. His mother got so anxious that she tried to find him a girlfriend, but it didn't work out. The women she brought for him weren't exactly his cup of tea.
All of this, however, is now in the past, as Agoro stated that he has finally found love. One of his numerous fans, he claims, happened to be the lady he now loves. She came up to him and asked if she might be his friend. They eventually became so friendly that they began dating. Agoro revealed that he had proposed to the woman, whose name he refused to share, and that she had accepted his proposal. The woman appears to have accepted him for who he is.
Afeez Agoro's Height Has Also Been A Blessing To Him
Despite all of the difficulties Afeez Agoro has encountered as a result of his extreme height, he has also been blessed. He claims that he is well-liked in his community because he is treated as a unique individual. Some even believe he possesses extraordinary abilities. They also believe he has developed fighting skills and is capable of defeating anyone. Many people are afraid of him.
Agoro once related how he assisted a friend who is a landlord in collecting rent from his tenants. Agoro had been approached by a friend who explained that his renters refused to pay their rents even though it was due. He then pleaded with Agoro to utilize his imposing stature to get the tenants to pay up. Agoro agreed and walked over to his friend's compound. When the renters realized how tall Agoro was, they were terrified, and three of them immediately paid the rent.
People have also backed the Nigerian behemoth over the years. He added that because of his unusual height, he has met many people who have extended loving hands to him. Agoro's fame brought him a lot of wonderful things and ushered him into the entertainment world when he became famous because of his height.
Acting
Afeez Agoro became one of the most sought-after people in 2017 and 2018 when his popularity grew. He started meeting with a number of celebrities, including actors and actresses. He eventually landed roles in a variety of films. He will be seen in the film Fate of Alakada, which will be released in 2020. In addition, he starred in the film Ebudola.
He Had His Own Reality Show
Because of how well-known Afeez Agoro had become as a result of his unofficial status as Nigeria's tallest man, there was a lot of interest in learning more about him. Following that, in August 2018, a Reality TV show called I Am Agoro, based on his life, was made for television audiences.
The show, which broadcast exclusively on Linda Ikeji TV (LITV), focused on his personal life and what it's like to be Nigeria's tallest man. He became a reality TV sensation as a result of the show.
How His Height Helped Agoro Get US Visa
Afeez Agoro recounted an amazing story about how his height helped him get a US visa quickly during his interview with The Nation. It is well known that obtaining a US visa is not easy, as you will be required to go through multiple steps and answer numerous questions. Agoro, on the other hand, had no trouble getting his visa.
According to him, when he went to seek a visa to travel to the United States, the Consular General was taken aback by his height and determined that Agoro would not be able to flee even if he wanted to. As a result, he granted him visa almost promptly. Following the visa, Agoro would spend six months in the United States.